Complete laboratory testing and support
Managing a network of remote laboratories is challenging, so ERA has developed systems and tools to help. Whether you need to streamline ordering, manage PT compliance, or identify and implement best practices across your network, we can provide the oversight and industry leading tools you need. ERA is dedicated to helping you improve the quality of every analysis, in every laboratory, every day.
Accurate, reliable data validation
Testing and standards oversight
Expansive CRM library
Custom interlab project support
Accurate, Reliable Data Validation on Demand
ERA provides Laboratory Testing and Support to labs in a variety of industries, including pharmaceutical, environmental, food and beverage manufacturing, petroleum, marine biology and water treatment. Regardless of the industry you're in, the objectives are the same: to meet the requirements of quality assurance and accreditation programs while maintaining laboratory performance. Our testing services, powerful tools and custom solutions give you more time to focus on day-to-day lab management.
Proficiency Testing (PT)
Not only will ERA PT provide validation of your results, it can also produce analytical results of analytes within specified accreditation parameters. You can count on us to verify the reliability and reproducibility of your testing parameters and identify areas for corrective action or process improvement. Additionally, our interlaboratory network enables you to compare your lab test results against other labs and against reference values.
eDATA™ Informatics
Developed in partnership with commercial labs around the world, the eDATA Informatics platform is a powerful tool to help you manage, review and evaluate your labs performance in study, against your peers and against other labs in your network. Use eDATA analytics to:
Give QA managers the data they need to analyze performance and take proactive or corrective actions
Identify potential issues to help manage accreditation risk
Improve lab network visibility for corporate managers
View trends analysis for matrix, study, standard and analyte
Drives technical excellence and process improvement through lab network collaboration
Streamline the PT process
Demonstrate competitive advantages, especially when it comes to niche analyses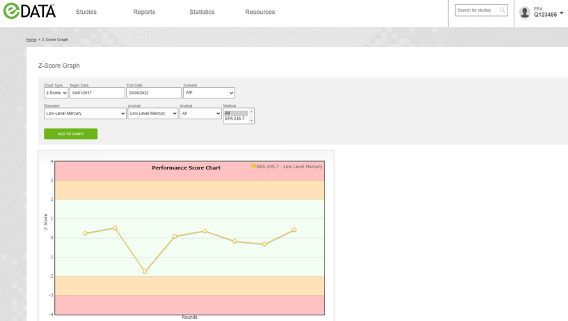 Custom Reporting
ERA can help your laboratory develop custom solutions to improve quality and drive differentiation. Working on-site, we provide tangible evidence that your laboratory is meeting quality objectives.