Custom Reference Standards
While mainstream testing involves analysis of a few specific targets, your custom QC or PT standards can include the exact analytes of interest at just the right levels in your matrix of interest. We prepare custom reference standards to match your project-specific needs, giving you tangible evidence that your laboratory is meeting quality objectives.

We conduct custom single blind, double blind and total lab evaluations. Standards are available as concentrates or as ready-to-use whole volume solutions. Plus, all custom standards include a Certificate of Analysis documenting its quality.


ERA delivers over 1,000 custom projects every year.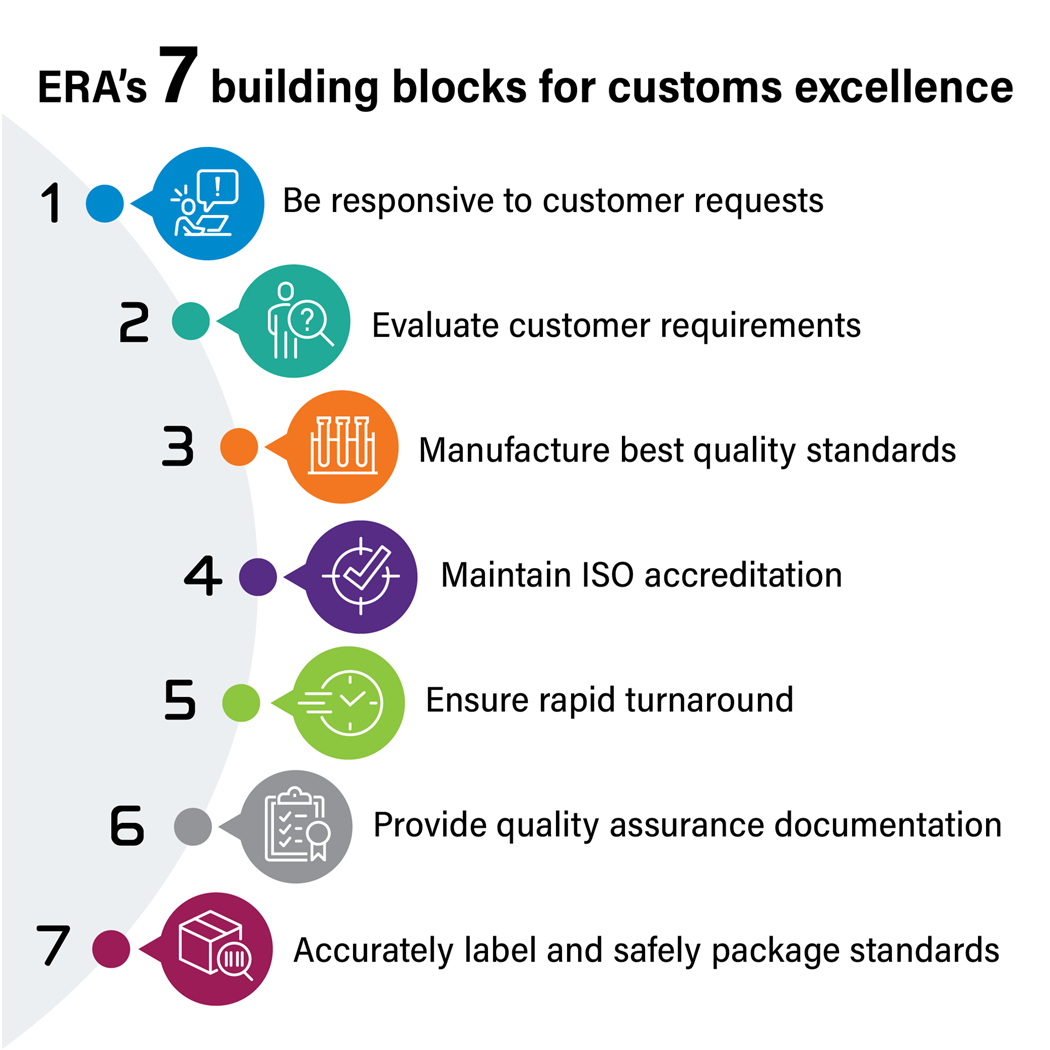 Our expertise covers a broad spectrum of analytes and concentrations with matrix capabilities ranging from simple to complex and liquid to solid. Whether you are performing testing for a pharmaceutical, environmental, food and beverage manufacturing, petroleum, marine biology or water treatment laboratory, you can rely on our rigorous quality system. You can also count on ERA's experience and responsive service to deliver custom standards for your analytical challenges, including:
Calibrations
Proficiency testing
Matrix spiking
Linearity / LOD
System suitability
Quality control
Stock solutions
Custom standards in as little as five days
ERA has created over 20,000 unique standards in our ISO 17025 and ISO Guide 34 accredited laboratory. Our experience allows us to complete custom standards in as little as five business days. Of course, complex and extremely large custom projects may take longer, but we will provide you with an accurate turnaround time when we quote your project.
Custom doesn't mean expensive
The cost for most simple custom reference standards is not much more than the price of similar standards. However, your project cost will depend on factors such as materials used, time required, complexity and the extent of analytical validation required. In every case, you will receive a fixed price quotation based upon your project-specific requirements.